An exclusive ISKCON UK development in the heart of Vrindavan. These apartments are priced below market rates and are conveniently located very close to the Krishna Balaram temple inside the parikrama path next to BB Govinda and Indradyumna Swami.
Dear Prabhus I hope this letter meets you and your family well and that you are all enjoying the continued blessings of Lord Krishna. Fifty years ago this summer, Srila Prabhupada and a small group of young followers signed into existence the International Society for Krishna Consciousness. The young people who put their signatures to […]
When: Saturday, 1 October 2016 from 09:30 to 17:00 (BST) Where: ISKCON Leicester Temple – 31 Granby Street, Leicester, LE16EJ, United Kingdom. "In order to secure your place at this year's convention please register FREE at https://uknationalconvention2016.eventbrite.co.uk NOW (please note registration on the day £5 admin donation, online registration closes 10th September, Limited spaces)"
A new marriage matching service for devotees has recently been launched in the UK as a combined effort between the former ISKCON Marriage Team UK and Sacred Ashram Team, who have joined together to become the Krishna Marriage Team and have amalgamated their databases together to provide a co­ordinated national service. Current members of the […]
Steven Brown: Planners unanimously gave consent for a new community building at a Hindu temple. The Hertsmere Borough Council's planning committee officially granted planning permission for a new development on the grounds of Bhaktivedanta Manor, in Aldenham on Thursday. The application is to build a two storey community building or a Haveli, as well as […]
On Saturday 23rd April, Bath Spa University will be hosting a conference to mark the first fifty years of the Hare Krishna Movement, also known as the International Society for Krishna Consciousness (ISKCON). One of the movement's leading gurus, His Holiness Bhakti Charu Swami, will be in attendance and there will be an opportunity to […]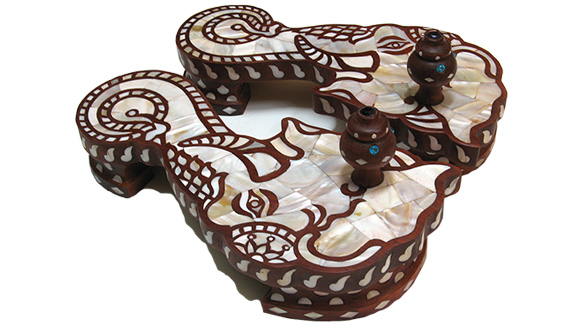 The ToVP International team will be touring the UK from the 18th to the 30th of November 2015. You will be able to receive the moonlike benedictions of Lord Nityananda in the form of his Padukas (shoes) along with Lord Nrsimhadeva's protection in the form of his Sitari (helmet). Jananivasa Prabhu, Ambarisa Prabhu and other […]
The ToVP International team will be touring the UK from the 18th to the 30th of November 2015. Lord Nityananda foresaw the manifestation of a glorious temple in Mayapur, and now He is touring the world in order to invite others to make that manifestation a reality. You will be able to receive the moonlike […]
HG Praghosa das recently announced in Mayapur that 2015, the 50th anniversary of Srila Prabhupada's arrival in the Western world, as The Year of the ToVP. Message from the GBC Chairman: 2015 Year of the ToVP "Having just accepted this wonderful service as GBC Chairman, I'd like to start my term by announcing this as […]
Sutapa das: The residential Veda Course is designed for those wishing to gain a foundational understanding of bhakti-yoga. Over a period of three months, the following modules are covered: Theology and Philosophy, Devotional Practice and Vaishnava Culture. You will experience the early-morning devotional programme, practical temple services and the variety of festivals that make Bhaktivedanta […]
LATEST NEWS HEADLINES
ALSO IN THE NEWS
Celebrating Jaganath Rath Yatra – 2015 Dublin
Chariot Festival, Ratha Yatra is a colourful and vibrant public festival that dates back thousands of years to ancient India. It features a huge chariot pulled by hand, accompanied by music and dancing, culminating in a fun-filled afternoon of stage shows and exhibitions as well as a free, sumptuous vegetarian feast. Ratha Yatra is celebrated […]
MORE STORIES
UK temples come together for first ever ISKCON National Convention
ADVERTISING

Click here to see advertised ISKCON projects and devotee business on this site
Vaishnava Calendar Reminder Service

Reminders sent to your email about upcoming events - Ekadasi, Festivals, etc. Click to subscribe.
MORE NEWS HEADLINES