Advertising on this site
9,108 views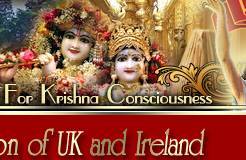 In order to both retain the integrity and attractiveness of the front page as well as ensuring we are complaint with UK Charity Commission law ISKCONUK .COM will adhere to the following guidelines:
1) The only advertisement that will appear on the front page of ISKCONUK.COM will be 'premium paid' fold advertisements. This form of advertising will retain the integrity of the front page as it will just show a small fold at the top right-hand corner of the front page. When the reader places their cursor on that fold the whole advertisement will be revealed. In addition, to also ensure that the UK Charity Commission's requirements are satisfied, the fold down advertisement will cost £100 (GBP) to remain on the front page for a period of 2 weeks. There will be only one advertisement at any given time.
2) All other advertisements will appear in the advertisement section. In this section there will be two categories, paid and unpaid:
a) PAID: These are advertisements where the individual or company advertising is intending to make profit for themselves.
Pricing for Paid advertisements:
1) 20 words or less, no pictures £5 (GBP)
2) 20 words or more, with pictures £10 (GBP)
3) 21 words or more, no pictures £15 (GBP)
4) 21 words or more, with pictures £20 (GBP)
b) UNPAID: These are advertising where in the person or project has no intention of making personal profit but rather any profit that might accrue will exclusively go to ISKCON UK.
Please note that any and all advertisements that appear on ISKCONUK.COM, whether there is personal profit made or not must be in pursuance and support of the aims in the founding documents of ISKCON UK (find below).
To submit an ad please write to: iskcon.uk@pamho.net
—————————————————
a) ISKCON's Articles & Memorandum of Association.
b) Internal stated aims – Seven Purposes of ISKCON
—————————————————
LATEST NEWS HEADLINES
ALSO IN THE NEWS
Second ISKCON UK National Convention takes place
Mina Sharma – ISKCON UK National Head of Media and Communications On Saturday 1st October, the second ISKCON National Convention took place at the newly renovated temple in Leicester, bringing together over a hundred devotees from across the UK. Organised to promote one UK yatra, and encourage a mood of unity, cooperation, trust and positive […]
MORE STORIES
HG Praghosa dasa GBC invites you to the ISKCON National Convention 2016 1st Oct  – Book Online Now
ADVERTISING

Click here to see advertised ISKCON projects and devotee business on this site
Vaishnava Calendar Reminder Service

Reminders sent to your email about upcoming events - Ekadasi, Festivals, etc. Click to subscribe.
MORE NEWS HEADLINES