October 30th marks the day of this year's Disappearance Day of ISKCON's founder, His Divine Grace A. C. Bhaktivedanta Swami Prabhupada. Although for many this is of course a somber occasion, it is however an opportunity for devotees to get together to remember and glorify him. A number of his disciples have organised a huge […]
Wednesday 26th 2010, is the annual festival marking the day when God appeared in order to protect His beloved devotee. In the Bhagavad-gita God makes it very clear that this is not a one-time affair, that He is actually doing this time after time, in age after age. He comes to protect the devotees – […]
The intercalated month of the Vaishnava calendar, known as the Adhika Masa – or 'the extra month' – begins today. This month is a great opportunity for improving your spiritual practice. I just uploaded a short video about it that you can see below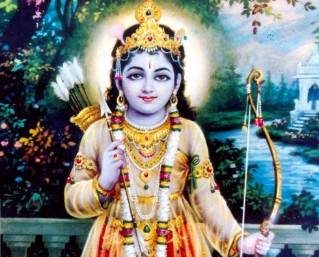 Ramanavami celebrates the birth of Rama or Ramachandra. On the ninth day of the first fortnight of Chaitra the birth of Rama is commemorated. The story of Rama was first written by Vaalmeeki in about the 4th century B.C. Rama is supposed to have lived during the 8th or 7th century B.C. The epic known […]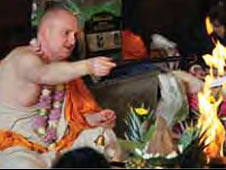 An annual highlight in Bhaktivedanta Manor's calendar, Gita Jayanti is a celebration of Lord Krishna's timeless dialogue with Arjuna. In the run up to the event over 1800 Bhagavad Gitas were sponsored by individuals and businesses for distribution. Several hundred people braved icy and dangerous driving conditions to participate in this year's celebration at Bhaktivedanta […]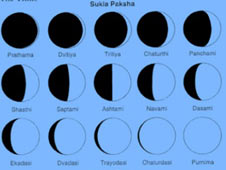 The meaning of Ekadasi Ekadasi is a day of austerity regularly observed by those who follow sanatana-dharma or Krishna consciousness. "Eka" means "one" and dasi is the feminine form of the word "dasa", which means "ten". Ekadasi is thus the eleventh day of both the dark and light fortnight of each month. On these special […]
An Address by Giriraj Swami to Leaders of Hindu Organizations October 23, 2009 Houston This year, Gita Jayanti, the day on which Lord Krsna spoke the Bhagavad-gita to Arjuna, will be celebrated on November 28. The Bhagavad-gita is also known as the Gitopanisad and is considered one of the Upanisads. The title Bhagavad-gita is sometimes […]
LATEST NEWS HEADLINES
ALSO IN THE NEWS
Lenin would be proud of us!
On wednesday as part of our initiative to distribute prasadam at least once a week to the residents Navadwipa we set out to the village on the other side of the Jalangi river named Lenin colony. West Bengal for so many years was governed by the communist party hence the reference to one of its […]
MORE STORIES
The New ISKCON Temple in Moscow
ADVERTISING

Click here to see advertised ISKCON projects and devotee business on this site
Vaishnava Calendar Reminder Service

Reminders sent to your email about upcoming events - Ekadasi, Festivals, etc. Click to subscribe.
MORE NEWS HEADLINES