On Saturday the 10th of November a rather unspectacular but noteworthy event took place in the UK National in Radlett, London. The signing of a lease agreement between the original ISKCON charity of 1969 and the relatively new ISKCON London charity. This was the final step after many years of painstaking preparation which means that […]
Film for the 42nd Anniversary of the installation of Their Lordships Sri Sri Radha-Londonisvara. Filmed at the Radha-Krishna Temple London. Part 1 and part 2 – November 2011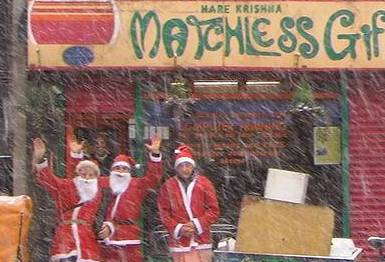 Friday 17 December. What is the best present that Santa Clause could ever give. Answer: Krishna in the form of His Holy name, books and prasad. Over 700 students get a full plate of Krishna prasad daily at two London Universities.
Dear Devotees, Please accept my humble obeisances All Glories to Srila Prabhupada Its Radha Londonisvara's 41st Birthday!! Hope you all remember what a bash we had last year for the 40th anniversary with Shyamsundar and Gurudas Prabhus and Mothers Malati and Jamuna and so many devotees from the yesteryears. And this year we will be […]
Monday to Friday this week watch the recordings of last year's 40th Anniversary of Sri Sri Radha-Londonishvara with Malati, Yamuna, Gurudas and Shyamasundara and other senior devotees of the UK yatra. On http://www.iskcon-london.org/temple-broadcast.html and on the London_History channel of www.mayapur.tv. MONDAY Dec 6th 2010 1 – The Inauguration.wmv – 9 mins 2 – Jaitra prabhu.wmv […]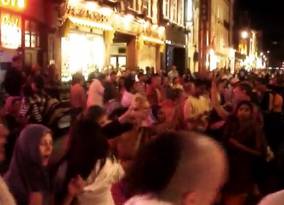 In this Age of Kali, people who are endowed with sufficient intelligence will worship the Lord, who is accompanied by His associates, by performance of sankirtana-yajna. Other yajnas prescribed in the Vedic literatures are not easy to perform in this Age of Kali, but the sankirtana-yajna is easy and sublime for all purposes, as recommended […]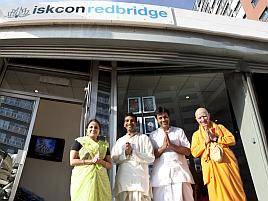 ISKCON devotees in the UK opened a long-awaited new outreach center in Redbridge, East London this August 15th. The center will host weekly Sunday programs with talks on the Bhagavad-gita, arati and prasadam food, as well as regular kirtan evenings and sangas—small groups facilitating structured study of Vedic philosophy. The charity organization Food For All […]
After more than 18 months of planning, the much anticipated moment arrived on Sunday 22 August when a breathtaking new altar was finally unveiled and officially offered to Their Lordships Sri Sri Radha Londonisvara to commemorate Their 40th anniversary. It was a moment that held the devoted congregation of ISKCON's London Radha Krishna Temple completely […]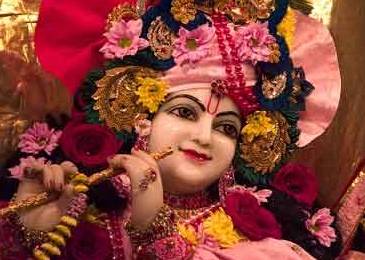 His Holiness Tamal Krishna Goswami: In London we had another interesting negotiation. By the time I got to London, in September of 1969, Prabhupada was about to get 7 Bury Place. But what is a temple without Deities? Prabhupada instructed us to install Radha Krishna Deities when the temple opened in December, but we didn't […]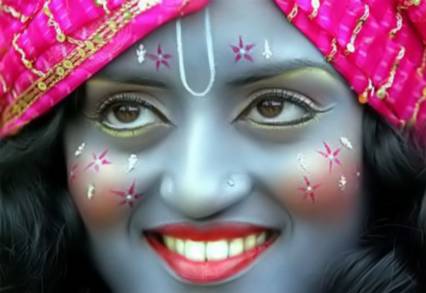 Highlight: London's 'Ratha-yatra' Festival of Chariots returned to the streets of the capital on Sunday 20th June 2010. London was illuminated by the wonderful colours and sounds of the annual Hare Krishna festival, a vibrant celebration of Indian culture and spirituality in our city. Thousands of festival-goers, pilgrims, and devotees from all over the world […]
LATEST NEWS HEADLINES
ALSO IN THE NEWS
George Harrison Garden officially opened
The George Harrison Memorial Garden was officially opened on Saturday 25th May, with Olivia Harrison and friends, local faith leaders, devotees and television presenters Monty Don and Peter Owen-Jones. When George passed away on 29th November 2001, the Manor resolved to create a quiet garden in his memory. The shady woodland dell behind the main […]
MORE STORIES
Pujari Cooks Required by ISKCON Birmingham
ADVERTISING

Click here to see advertised ISKCON projects and devotee business on this site
Vaishnava Calendar Reminder Service

Reminders sent to your email about upcoming events - Ekadasi, Festivals, etc. Click to subscribe.
MORE NEWS HEADLINES