Social Media made easy
3,008 views
He's a multimillionaire, an entrepreneur, a master at business start-ups, a social media genius and a devotee. And on Saturday 20th May, Ajita Das shared his skills and experience with us, teaching us how to use social media to spread Krishna Consciousness even more.
Around fifty devotees gathered together from across England at Bhaktivedanta Manor for the daylong course, which began with Ajita Das encouraging attendees to examine deeply, what they personally felt, was the biggest problem Krishna Consciousness could solve. Armed then, with this insight into their individual motivation for sharing the wisdom of Krishna Consciousness, devotees were taught how to use that, to create a wow factor around Krishna Consciousness and tell people why they should care about it.
Attendees were also given a lesson in the science of persuasion and Ajita Das gave his tremendous business experience as an example of how to create content and market it on social media in such a way, that it leaves daily impressions on the mind and influences people.
Devotees were also provided with fresh fruits and tea throughout the day and a delicious and nutritious lunch, which they enjoyed outside in the beautiful sunshine. Ajita Das, noted that of all the locations he has given talks and classes in, the classroom above the goshalla, where the course took place, was his favourite because he got to enjoy a view of the cows throughout the day.
The day finished with a stimulating question-answer session, with attendees making the most of their time with Ajita Das. Devotees from both the College of Vedic Studies social media team and the Manor's Communications team attended and were greatly inspired by the session and hope to continue to spread Srila Prabhupada's message and enthuse new people to become devotees.
The event was organised by Bhaktivedanta Manor's Communications team members.
By Zayani Bhatt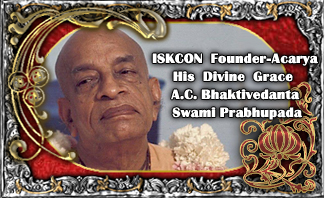 LATEST NEWS HEADLINES
ALSO IN THE NEWS
The Astounding Bhagavad Gita
For more than ten years I have been printing large format books such as Darsana, Krishna Art, and the latest 16 Kg Bhagavad Gita. My cherished dream has always been to produce Srila Prabhupada's Bhagavad Gita in a size that would make it the largest printed sacred text in the world, and then, after displaying […]
MORE STORIES
Sabbatical Course 2018
ADVERTISING

Click here to see advertised ISKCON projects and devotee business on this site
Vaishnava Calendar Reminder Service

Reminders sent to your email about upcoming events - Ekadasi, Festivals, etc. Click to subscribe.
MORE NEWS HEADLINES