Female Diksa Gurus
5,181 views
From the Governing Body Commission of the International Society for Krishna Consciousness
(Editor's note: This is the 321 of the 2014 GBC resolutions. You can find the Minutes Of The 2014 Annual General Meeting in our archives section or directly here)
The subject of Vaisnavis initiating in ISKCON is further tabled until additional discussion at the 2014 GBC Midterm Meeting. In the meantime the GBC Eexecutive Committee will work on the following process: 1. Creating a committee of devotees who have no pre-determined view on this topic who will gather documents from all sources on the subject of female diksa-gurus. 2. The committee will sort, summarize, and categorize all documentation. Categories could include Srila Prabhupada's quotations, varnasrama-dharma, history within our sampradaya and other Vaisnava sampradayas, etc. 3. As far as possible all documentation will be verified for accuracy, authenticity, etc. 4. As far as possible this committee will do whatever other research may be required. 5. The committee will then provide all those documents to the GBC members prior to the Midterm meeting. Thus all GBC members will come to the Midterm Meeting well aware of all the arguments, information, and evidences available. This will then enable the GBC to make either informed progress or an informed decision on this matter.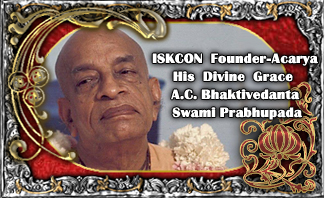 LATEST NEWS HEADLINES
ALSO IN THE NEWS
Cooking for the London Rathayatra 16th June 2019
Parasuram das: We are looking for volunteers to help cook the greatest feast ever for the pleasure of Lord Jagannath and his devotees. Volunteers are needed all day Saturday chopping veg and all night cooking Saturday night/Sunday morning. There is a special gift for all those who help, Srila Prabhupada's blessings! The Narada Purana (uttara […]
MORE STORIES
The View Of An Irish Hare Krishna On "What It's All About"
ADVERTISING

Click here to see advertised ISKCON projects and devotee business on this site
Vaishnava Calendar Reminder Service

Reminders sent to your email about upcoming events - Ekadasi, Festivals, etc. Click to subscribe.
MORE NEWS HEADLINES