Course "Ayurveda – the Art of Natural Healing"
6,661 views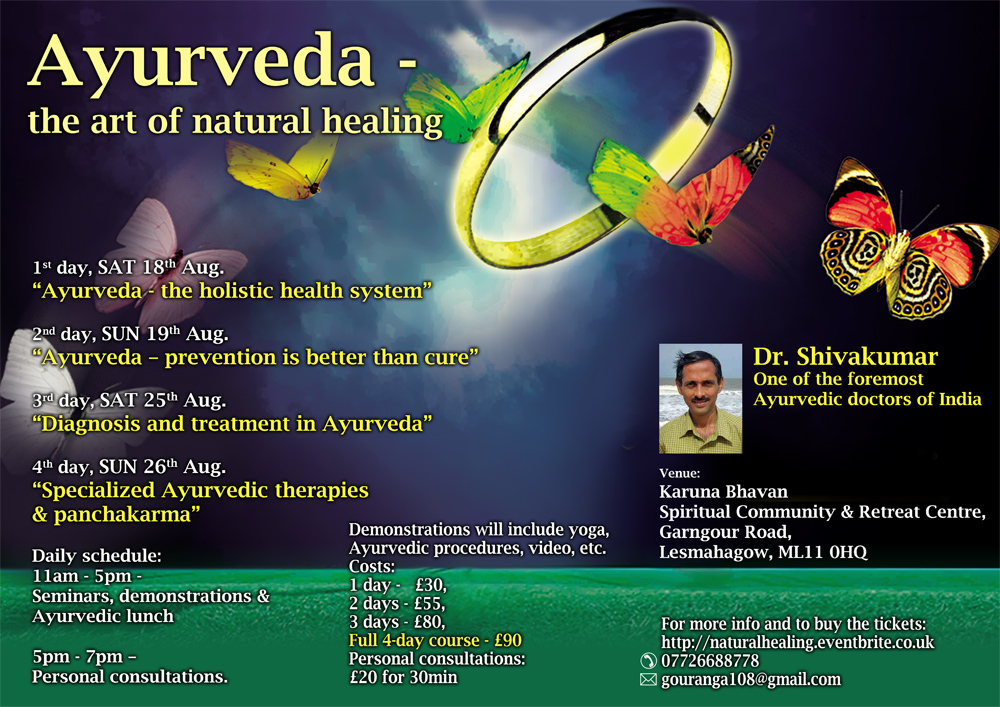 With Dr. M.B. Shivakumar – one of the foremost Ayurvedic doctors of India*
*Venue:* Karuna Bhavan Spiritual Community and Retreat Centre, Krishna Eco Farm, Garngour Road, Lesmahagow, Lanarskhire, ML11 0HQ *Directions:* http://goo.gl/maps/5iIUv
Dates & Times:
*1st day, SAT 18th August, "Ayurveda – the holistic health system" 2nd day, SUN 19th August "Ayurveda – prevention is better than cure" 3rd day, SAT 25th August, "Diagnosis and treatment in Ayurveda" 4th day, SUN 26th August, "Specialized Ayurvedic therapies and panchakarma"*
*Daily schedule:**
*11.00am-01.00pm – Seminar, Q&A 01.00pm-02.00pm – Ayurvedic lunch 02.00pm-04.00pm – Seminar, Q&A 04.00pm-05.00pm – Ayurvedic procedure demonstrations 05.00pm-07.00pm – Personal consultations Some personal consultations can be arranged 9.30am-11am or on the weekdays.
Costs: 1 day – £30, 2 days – £55, 3 days – £80, 4 days – £90 Personal consultations: £20 for 30min Ayurvedic lunch is included in the price
*Please make a booking at http://naturalhealing.eventbrite.co.uk* *RSVP:* http://www.facebook.com/events/488253247869424/ *More info:* 07726688778 or reply to this email
P.S. Dr. Shivakumar is available for booking between MON 20th – FRI 24th August to give seminars, workshops to beginners and professionals at yoga studios, health and fitness centres, etc.
*About Event
*We are delighted to inform you about the 1st visit to Scotland of one of the foremost Ayurvedic doctors of India – Dr. Shivakumar M.D., who is the founder of Hitayu Ayurveda and Yoga Centre. Through combination of Ayurvedic diet, Yoga and Ayurvedic medicine he has cured or significantly improved the conditions of patients that western medicine could not help.
Since opening his centre he has successfully treated hundreds of Western people, having chronic illnesses like fibromyalgia, Diabetes, Hypertension, Eczema, Psoriasis, Osteo arthritis, Rheumatoid arthritis, Ankylosing Spondylitis, Ulcerative colitis, Hyperacidity, Allergy, Asthama, etc.
*About Ayurveda
*Ayurveda is a branch of science that comprises part of the Vedas, an ancient and comprehensive body of scientific knowledge that originated in India several thousand years ago. The Vedas are increasingly being recognized by the scientific community, as more and more scientific discoveries are beginning to confirm the assertions of these ancient texts. As a medical science, Ayurveda is not only concerned with treating the disease, it also teaches how to enhance the quality of life so that one does not become diseased. The term Ayurveda is derived from two Sanskrit words: 'ayus' meaning life and 'vid' meaning knowledge. Ayurveda is the science of life.
The root of disease is imbalance in physical, mental, emotional and spiritual states. Due to a polluted environment and modern lifestyles people have lost this balance and have become prone to many illnesses. However, by the timeless wisdom of Ayurveda it is possible to restore the balance and feel healthy and happy. It evaluates the individual's constitution and offers holistic solutions including diet, herbal remedies, yoga, breathing, etc. to restore and maintain balance in mind, body and spirit.
*About Dr. Shivakumar
*Dr. M.B. Shivakumar M.D (Ayu) is an ayurvedic physician, who did his graduation in Ayurveda from Govt college of Indian Medicine Mysore and did his post graduation in Ayurveda from Gujarath Ayurveda University, Jamnagar. He was trained in Kottakkal Arya Vaidya Sala in 1994 and later served as Lecturer in S.D.M. Ayurveda College & Hospital. He then joined Muniyal Ayurveda Inst. Of Ayurveda Medical sciences as Head of dept of Panchakarma and was teaching PanchaKarma Therapy to the undergraduates. In Dec. 2005, he established Hitayu Ayurveda and Yoga Centre to serve humanity through Ayurveda and Yoga. His approach to healing is based on classical ayurvedic treatments which comprise of correction of the imbalances in food and life-style of the patient along with traditional ayurvedic medicines, yoga and breathing.
Yours sincerely, Karuna Bhavan Spiritual Communty and Retreat Centre Krishna Eco Farm