Hare Krishna Festival of Chariots attracts thousands to Leicester city centre
6,336 views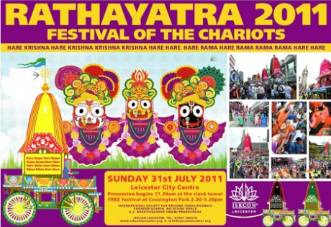 Thousands of devotees pulled three 30ft chariots through the streets of Leicester yesterday in celebration of a 5,000-year-old festival.
Colourful flags and lively rhythms led the 14th annual Hare Krishna Festival of Chariots from Humberstone Gate, in the city centre, to Cossington Park, in Belgrave.
The event was staged by the International Society for Krishna Consciousness.
Organiser Nimai Devi Dasi said: "Today is about getting the chance to show other people what we're about. It's a nice, jovial time and we're not restricted to the temple, which means we can get a lot more people involved – people who may not have come across us before.
"The Jagannatha Ratha Yatra is a celebration more than 5,000 years old, making it the oldest street festival in the world.
"Devotees believe that if they get the honour of pulling the ropes of the giant chariot, carrying Lord Krishna then at the end of this life, they will be granted a place in the spiritual world."
The procession featured three huge chariots, which carried deities Lord Jagannatha (Krishna), Lady Subhadra and Lord Balarama.
Participants pulled the giant floats to Cossington Park, where more than 9,000 people were entertained with live music, dancing and singing.
Mayor Sir Peter Soulsby took part in the ceremony, sweeping the procession route as a sign of humility and service to the people.
He also joined the procession as it slowly made its way along Belgrave Road, helping to pull the giant chariots for part of the way.
He said: "It's the first time as city mayor that I've taken part in the event, which I've seen grow and flourish over the years.
"It's an important part of our cultural heritage and brings life and colour to the city."
The parade was filled with music and singing as it snaked its way through the city centre and along Belgrave Road.
Ramesh Yadav, 32, was keeping the rhythm of the march.
The drummer, from St Matthews, said: "It's an occasion where Lord Krishna can come out and look at everyone.
"The big eyes on the statue (on the chariot) show that he is looking out at everyone and looking into your heart."
Sandeep Patel, 29, from Oadby, said: "Just to experience the whole day is fantastic – there's thousands of people coming together from all backgrounds.
"It's a celebration for us, but everyone is welcome to join in."
Steve Shaw, 31, had travelled from Chorley, in Lancashire, to be at yesterday's festival.
He said: "Today is about celebrating the joy of life, everybody has to get involved by helping with the chariot – it's like pulling the Lord into our hearts."