ISKCON Birmingham 24 hour kirtan 2011
6,613 views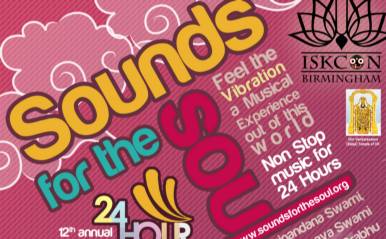 When: Sat 28th May (Ekadashi) to Sun 29th 2011
Dedicated to: HG Tribuvannatha Prabhu and HG Aindra Prabhu
Special guests: HH Sacinandana Maharaj, HH Bhakti Vishramba Madhava Swami and HG Madhava Das
Info: The oldest, annual 24 hour kirtan outside of India is back. Aindra prabhu personally gave many blessings and instructions to us on how to organise this particular 24 hour kirtan. Here are the details.
Program Sat 28th May:
4.30pm: Grand Opening,
5pm: Meditations on the Holy Name by HH Sacinandana Swami
5.45pm: Video of Aindra Prabhu
6pm: Kirtan starts until Sunday 9pm.
Program Sun 29th May:
11am: Abhisheck of our Sri Sri Nitai Gaura
Venue: Sri Balaji Temple (community hall), Dudley Road East, Tividale, West Midlands, B69 3DU.
Please see the attached poster for more details and please note that this festival is FREE of Charge. All we need is you and your spirit soul.
Contact:
Nitai Charan Das (ISKCON bham Temple President): +44 (0)7956264126
Mayapur Madhava Das: +44 (0)7966238376
Hema Radhika Devi Dasi :+44 (0)7976870504
Accommodation contact Nishi:07971226654
E: nitaicharan@fsmail.net / moh1_nandi@hotmail.com
Thank you
Hare Krishna
Your Servant,
Mayapur Madhava Das
Donations to support the event welcome- https://www.justgiving.com/bham24hourkirtan2011/