Harrow Monthly Sankirtan Festival
4,635 views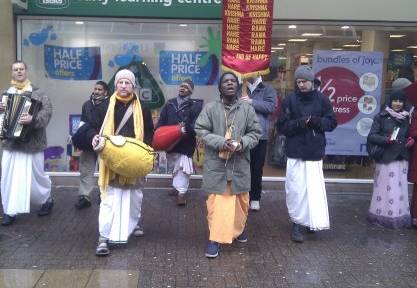 Saturday 26th February marked the launch of the Harrow Monthly Sankirtan Festival (HMSF). Over 50 devotees came together and sent a vibrant spiritual energy across the centre of the town.
The event included devotees from the Bhaktivedanta Manor ashram, congregation and the Pandava Sena who combined forces to perform hari nama (street chanting), the distribution of Srila Prabhupad's books and more than 200 prasad sweets were distributed.
The next HMSF is scheduled to be on 9th April.
Contact Kanchanabja das if you would like to get involved:-
kanchanabja.bcs@gmail.com