Upcoming classes at the Manor with Bhakti Rasamrita Swami
4,661 views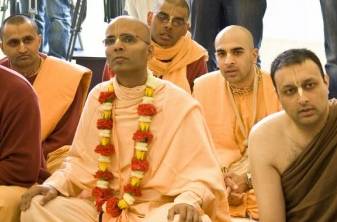 His Holiness Bhakti Rasamrita Swami completed his B.E. from M.S University Baroda, MBA from Bombay University. Inspired by the teachings of His Divine Grace A.C. Bhaktivedanta Swami Prabhupada, he decided to dedicate his life for propagating the message of Bhagavad Gita and joined ISKCON. He was initiated by the spiritual name His Grace Devamrita Dasa.
He served as temple president in Mumbai, Belgaum and Vrindavan- which is the spiritual hub of world wide ISKCON temples. He has been preaching in many prestigious educational institutions all over India. Commemorating the hundredth birth anniversary of Srila Prabhupada in the year 1996, he travelled widely and conducted National level theistic debate competitions in various colleges and Universities across India and Nepal, covering 250 cities and over 5000 colleges.
In the month of March, 2010, honoring his dedication and devotion, He was awarded the order of Sannyasa (Renunciation) in ISKCON, with the title His Holiness Bhakti Rasamrita Swami. In his more than 23 years of dedicated devotional life in ISKCON, he has rendered several important services, preached in many countries of America, Europe and USSR, and continues to do so. Presently he is temple president of ISKCON Belgaum centre and is overseeing the development of a "self- sufficient vedic eco village" (Gokul Dham) in 450 acres of land nearby.
by His Holiness Bhakti Rasamrita Swami
All morning classes start at about 7.30am, and evening classes straight after 7pm arati.
Saturday 5th February – Morning class
Sunday 6th February – Morning class
Tuesday 8th February – Morning class
Saturday 12th February – Morning class and Evening Maha Sangha
Sunday 13th February – Morning class and Evening class
Saturday 19th February – Morning class
Sunday 20th February – Morning class and Evening class
LATEST NEWS HEADLINES
ALSO IN THE NEWS
Second ISKCON UK National Convention takes place
Mina Sharma – ISKCON UK National Head of Media and Communications On Saturday 1st October, the second ISKCON National Convention took place at the newly renovated temple in Leicester, bringing together over a hundred devotees from across the UK. Organised to promote one UK yatra, and encourage a mood of unity, cooperation, trust and positive […]
MORE STORIES
HG Praghosa dasa GBC invites you to the ISKCON National Convention 2016 1st Oct  – Book Online Now
ADVERTISING

Click here to see advertised ISKCON projects and devotee business on this site
Vaishnava Calendar Reminder Service

Reminders sent to your email about upcoming events - Ekadasi, Festivals, etc. Click to subscribe.
MORE NEWS HEADLINES