Europe's 2nd Brahmachari Convention Inspires, Revives
7,514 views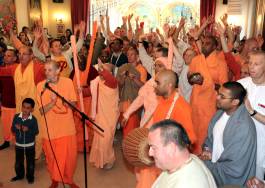 Seventy-five saffron-clad celibate monks known as brahmacharis, from European countries as diverse as France, Ireland, Poland, Norway, Finland and the UK, converged on Bhaktivedanta Manor near London from June 18th to 23rd this year, to attend the second annual European Brahmachari Convention.
Born from an idea by ISKCON guru Prahladananda Swami, the Convention aims to provide likeminded association and inspiration for brahmacharis, who were once the heart of spiritual life in temples, but are now few and far between.
Each day of the conference delivered on this promise from the very beginning, starting with a traditional temple morning program and Srimad-Bhagavatam class given by a different leading ISKCON guru or sannyasi renunciant each day. Speakers included Jananananda Swami, Bhakti Rasamrita Swami, Bhakti Vijnana Swami, Krishna Ksetra Dasa, Yadunandana Swami, Prahladananda Swami, Chandramauli Swami, and Jayadvaita Swami.
Breakfast was then followed by three seminar sessions from 10:00am to 11:30am, 12:00pm to 1:30pm, and 4:30pm to 6pm. "We received feedback from brahmacharis after last year's convention that the two topics they most wanted to focus on on this year were practical life and deepening spiritual practices," says Chaitanya Jivan Dasa, who reprised his role as co-organizer this year along with Yadunandana Swami and Kanhaiya Dasa. "So our seminars reflected that."
As such, Krishna Ksetra Dasa spoke on "Looking Deeper at Our Faith" in his presentation "Shanti, Shanti, Shanti"; Bhakti Rasamrita Swami discussed the ancient saint Rupa Goswami's six loving exchanges between devotees; Bhakti Vijnana Swami spoke on developing buddhi, or intelligence, in spiritual life; Chandramauli Swami talked about Dealings and Challenges in Contact with Women; and a panel discussion led by several sannyasis entitled "Brahmachari Life: Considering Future Options" took a practical look at caring for aging brahmacharis, and when and how to make the move from celibate life to married life.
Meanwhile, special guest speaker Bhakti Charu Swami dropped in to deliver an inspirational session entitled: Just Give This One Life to Krishna.
Evenings were a time for rest and association, as well as for entertainment. The Bhaktivedanta Players presented two plays relevant to Brahmachari life: The Journey of Life, and Bilvamangala Thakura. Devotees also enjoyed an inventive one-man skit by Shyamananda Dasa from Dublin, Ireland, depicting the many ways the mind tries to distract us from japa (meditative chanting of the Hare Krishna mantra).
The assembled brahmacharis took a break from normal proceedings on June 20th to attend Ratha Yatra, a mega-parade in London honoring Lord Jagannatha, a form of Krishna, and to contribute to it with their enthusiasm in kirtan and distributing Srila Prabhupada's books.
On the final day, a saffron awarding ceremony was held in which new brahmacharis Bhakta Robert and Bhakta Pasha of London's Radha-Krishna Temple received their saffron cloth. Listening carefully to a talk about the significance of donning saffron and the responsibility behind such a life change, they then launched into an enthusiastic kirtan.
Later that evening, a sizeable block of time was given to filling out feedback sheets, so that the convention's organizers could improve future events. "It was very important for us to hear from everybody about what they thought," says Chaitanya Jivan. "And we were glad to see that there was a lot of positive feedback, especially around hospitality. I don't think it was as much the quality of the accommodation that they were impressed with—although we certainly made an extra effort to make sure everyone was comfortable—as it was our dealings with each attendee, adding that personal touch."
Examples? Try the birthday ceremony held for the six brahmacharis that shared a June birthday, complete with appreciation speeches and a large cake. Or the delicious packed lunch prepared for each brahmachari traveling long distances home. Or the reduced-fare taxis arranged to transport all the attendees who requested them to and from their airports and railway stations.
"Brahmacharis are always serving others, and we felt it was very important to give them special care and attention during this convention," Chaitanya Jivan says.
Ultimately, this care is indicative of the new foundation, and the new strategies, policies and vision that organizers hope to lay using the European Brahmachari Convention as a springboard.
As Yadunandana Swami put it in his closing speech: "This, now, is not just a convention of some inspiration classes, but a serious move towards reviving the brahmachari ashram in Europe."
By Madhava Smullen for ISKCON News on 25 Jun 2010