Father's Advice
4,327 views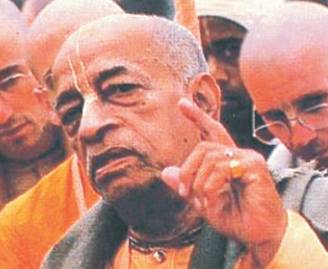 I came across a beautiful simple story published sometime back in "Bhagavaddarshan" (BTG in Telugu- South Indian language). The name of the story was Father's advice". I sincerely think that it is very relevant to caring and gives inspiration to all readers about the present subject matter that is caring for devotees.
The story as follows: In Jagannathapuram there was a person by name Ranganatham. He was humble, noble and never cheated anyone in his business dealings. He came up in life in a honest manner with great struggle and acquired some cultivation land and built a good house. He had two sons.
The elder son's name was Ramesh and the younger one was Suresh. As a good father Ranganatham ensured good education and taught them ethics and good culture. Elder son gained expertise in cultivation of land, whereas the younger one became expert in business.
At appropriate time Ranganatham arranged for the marriage ceremony of both the sons and they led a peaceful combined family. One day Ranganatham called both of his sons to give some confidential advice as his last word: "My dear boys! You know very well about my struggling days, they were very difficulat indeed: how I toiled hard to get you both good education, land and a house. I know that my life is coming to an end and I would like to give you my final advice.
Please always ensure to keep the association of a best friend, best well-wisher and the dear most object. This is my final word to you. Don't forget my word". Both the sons heard the father's advice and kept it safely in their hearts. fter sometime Ranganatham left his body nd reached heavenly abode. After the ther's departure the younger son pursued gher business ventures and went to long stance; whereas the elder son continued his gricultural activities.
Taking father's advice to full consideration he chose one best iend for constant association; he considered s father-in-law as the best well-wisher and eated his younger son as the dear most bject in the world. Very soon he came to now that the so-called best friend cheated m by swindling money, the so-called best ell-wisher tactfully usurped some property nd the dear most object because of special eatment became impudent. Ramesh was ghast with these reverses, but did not find ny fault with father's advice. He felt that ere was some problem within himself and anted give one more try. Second time he lected another set of best friend, best well wisher and the dear most object.
Once again e failed to get good results. However, he tried for the third time and ultimately became totally disturbed to get fatal results. In this process he lost most of his wealth and health; family life in chaotic condition and he led morose life. It is almost five years passed since his younger brother left the hometown for new business ventures. Ramesh did not get opportunity to meet his brother for all these years. He immediately decided to meet his brother and narrate his sad story to him for some solace and advice. He went to his place and was surprised to see the opulence and cheerful mood of his brother. He at once embraced his younger brother and felt happy.
However, Suresh was astonished to see the pitiable condition of his elder brother and asked the reason for the same. " Dear Suresh! I followed father's advice in Toto and the result is the present pitiable condition. I have lost my wealth, health, farming, family and I am now totally disturbed. It seems you have not followed the father's advice; hence, you are very happy and prosperous. Anyway I am happy to see that at least you are happy." When Suresh heard his brother's words immediately said, " No No, I have fully followed our father's advice. All my opulence, happiness and peace are only due to my following of father's advice sincerely." Ramesh was surprised to hear this and said, " How is it possible? Please explain me in detail the facts." " Dear brother! I took the real meaning of father's advice and acted accordingly. As per Srimad Bhagavatam the good health is the best friend. I immediately adopted good health practices and took the full advantage of best friend's association.
I considered a pure devotee of the Lord as the best well- wisher and accordingly I started intimate association with devotees. In their constant association I fully realized that the dear most object in this world is Lord Sri Krishna. In this way my entire family and myself are totally healthy both physically and mentally. We are really enjoying the life by fully adopting to the father's advice." Ramesh immediately understood his mistake in misunderstanding the father's advice. He sincerely asked for the guidance of his younger brother to adopt his way of life to put the life back again on tracks. With the guidance of his brother he took to Krishna Conscious life and led a happy life.
Though we are not these bodies, the body belongs to us. It is through the body we can achieve the ultimate perfection of life, love of Godhead. Though the body is a gross matter, its health status greatly influences subtle mind and our spiritual practices. Thus emotional care and spiritual care are badly affected by bad health. This story nicely throws light on the importance of good health, devotee counseling and Sri Krishna's love. Devotee's body care, emotional care and spiritual care are well taken care once everybody understand purport of this story.

Vaishnavanghri Sevaka Das, a disciple of HH Gopal Krishna Goswami Maharaj and holds Ph. D. in polymer chemistry and works as polymer technologist in Mumbai. He is rendering service to BBT through translation of Bhagavad Gita- As It Is and Srimad Bhagavatam into Telugu for the last 13 years. He is actively contributing articles to Bhagavaddarshan (Telugu).