Idols?
3,077 views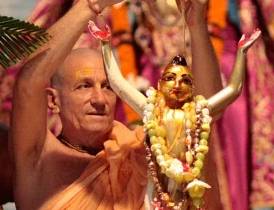 Sutapa das: The shrine at our temple is undoubtedly the main attraction. In dialogues with those from Judeo-Christian or Islamic backgrounds, I regularly encounter some uneasiness as to how God can appear in a 'material' form – idols made by the hands of man. It appears limiting, imaginary and almost childish – to treat God like a play-doll by dressing Him, feeding Him and putting Him to bed at night. Can God truly reveal His divine self through material elements? Can a factual and deep relationship with God be established via such rituals?
While many see the material world as completely separate from the supreme spirit, the ancient Vedic tradition defines God as the source of everything material and spiritual (janmadya asya yatah). Even physical elements have an intimate relationship with God. The cause is present in the effect. Thus, God's imminence in the material world may be brought to the surface when material objects, such as marble, metal or wood, are directly engaged as vehicles of worship according to authorised prescriptions. God, after all, is the complete whole and can simultaneously manifest Himself in everything within and everything beyond our experience. To say He cannot appear in a certain way would be to place a limitation on the supreme.
I often tear a piece of paper in front of people. Nobody blinks an eyelid. I then request them to produce a £20 note from their wallet and do the same. Understandably there is significant reservation. Although made of the same substance, one has been empowered by a higher authority to carry significant added value. Thus, not only do we approach it with great respect, but also receive tangible benefit by recognising its value. Similarly we can offer our worship to God through authorised physical media in the form of Deities. These forms are not simply representations or icons, but actual manifestations of the divine personality, and one who enters a transcendental exchange with Them can directly perceive that.
LATEST NEWS HEADLINES
ALSO IN THE NEWS
UK Prime Minister David Cameron celebrates ISKCON's 50th anniversary
The Bhaktivedanta Manor marked the start of a new chapter in its history on Friday 10th June, as the groundbreaking ceremony for the long awaited Haveli building was led by UK Prime Minister David Cameron. The ceremony formed part of the Manor's offerings to celebrate the 50th anniversary of ISKCON, upon which Mr Cameron heartily […]
MORE STORIES
New devotee marriage service in UK
ADVERTISING

Click here to see advertised ISKCON projects and devotee business on this site
Vaishnava Calendar Reminder Service

Reminders sent to your email about upcoming events - Ekadasi, Festivals, etc. Click to subscribe.
MORE NEWS HEADLINES