Devotees fly to Dominican Republic to help relief efforts in Haiti
5,868 views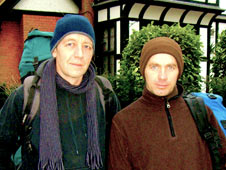 This morning (27/01/2010) two devotees left the UK for Haiti to take part in ISKCON's relief efforts co-ordinated by Food for Life Global. As part of the first wave, another ten ISKCON devotees from around the world are also flying today. Many more devotees are expected to go there soon.
Initially they will be flying to a base in Santo Domingo, in the Dominican Republic which is within travelling distance of the affected area. The centre is providing food as part of its Food For Life program and has cooking facilities with numerous volunteers ready to help. Food for Life Global is partnering with Water for Life Global who have mobile water purifying system and they will also be providing a sanitation service.
Food for Life Global is planning to work under the protection of the military complementing the work of bigger agencies such as CARE and OXFAM and Red Cross at present.
Priyavrata das, a member of Food for Life, said "it will take some time before things stabilize in the country, and is likely to end up as a four month endeavor".
The Lotus Trust, the welfare arm of ISKCON in the UK, is working with partner food relief organisations currently with a base in the Dominican Republic where food supplies are being prepared.
Attached Photo:
Includes (from left) Bhakta Robin Laing and Vaikuntha Krishna das, who left today
Food for Life Global Website:
http://www.ffl.org/
Donations:
Your donations are crucial, 200 meals can be served for as little as £30.
Please give generously
1) The Food for Life webpage: http://www.ffl.org/ffl_donation.php
2) Cheques can be made payable to The Lotus Trust and sent to
The Lotus Trust, The Manor, Hilfield Lane, Aldenham, Watford, Herts, WD25 8EZ
Online donations can be made at:-
http://www.thelotustrust.org