Haiti Earthquake Appeal
4,324 views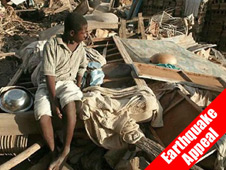 The victims of the earthquake in Haiti urgently need your help
With up to a staggering 200,000 people feared dead following the massive earthquake that struck Haiti on Tuesday 12th January, the authorities have been frantically trying to move the tens of thousands of corpses from the capital's streets to mass burial graves outside the city. At the same time, they are fighting to keep the city's survivors alive, with 300,000 people made homeless and desperate for food and water. There are concerns that the supply of drinking water will only last a few more days.
The Lotus Trust is the welfare arm of ISKCON Bhaktivedanta Manor and is working with the UK Hindu community to assist with the huge relief effort that is required. We have partnered with Global Food for Life who will be co-ordinating food and water relief activities from the ISKCON centre in neighbouring Santo Domingo in the Dominican Republic, where a dedicated Haiti Relief base station has been set up.
In addition, ISKCON volunteers from the USA, UK and Hungary are travelling to the area to assist their colleagues in the food relief efforts.
* Your donations are crucial to our relief efforts.
* 200 nutritious meals can be served for as little as £30.
* Please give generously and help our volunteers save lives.
Donate NOW by clicking here >>>>