Is ISKCON in Peril?
830 views
GBC SPT / Praghosa dasa: The future of ISKCON; A thought-provoking discussion on the very future existence of Srila Prabhupada's Movement
Praghosa Dasa, a native of Dublin, Ireland, joined the ISKCON Soho Street temple in London in 1983. A year later he relocated to Dublin and took initiation from Satsvarupa Dasa Goswami. He spent the early part of his devotional career distributing Srila Prabhupada's books, raising funds and managing temples in Belfast, the island of Inis Rath, and a rural community in Wicklow, Ireland. Concurrently he and his wife, Goloka Devi Dasi, raised two sons, Sankarsana and Pancajanya. As things now stand, Praghosa Dasa and Goloka Devi Dasi direct three Govinda's Restaurants and a preaching centre in Dublin and still care for their two grown sons.
An active contributor to ISKCON's web site Dandavats.com and the driving force behind it, Praghosa Dasa is also a GBC member. He began in 1997 as a deputy GBC member, but his ability to rise to a challenge, his quick thinking, his creativity and good sense of humor were all noted by the GBC body, and he became a full GBC member in 2001. His areas of responsibility cover some of the world's colder climates: the Channel Islands, Denmark, England, the Faroe Islands, Iceland, Ireland, Northern Ireland, Norway, Scotland, Sweden and Wales. Additionally, Praghosa Dasa assists as co-zonal secretary for ISKCON's headquarters in Mayapur,
West Bengal, India.
Praghosa Dasa is currently serving as chair of the GBC team building group. He also sits on the GBC Appointments, Finance, and BBT/GBC Liaison committees. For three consecutive years, 2002, 2003, and 2004, Praghosa handled decision-making as an executive officer in the executive committee of the GBC body. For that entire period, he also chaired the annual GBC meetings. Indeed Praghosa was the first grand disciple of Srila Prabhupada to be chairman of the GBC body. His solid commitment to serving ISKCON in a significant way is further highlighted by his participation in the European Regional Governing Body (RGB) from its inception in 1997 and by his ongoing managerial responsibilities in ISKCON Dublin.
The GBC meetings, in which current issues and the future of the Hare Krishna movement are discussed, are full of gravity. However, with great determination and flair, Praghosa Dasa puts together a drama every year to celebrate the lighter side of spiritual life an amazing feat for someone already fully engaged in devotional service.


Click below to start the player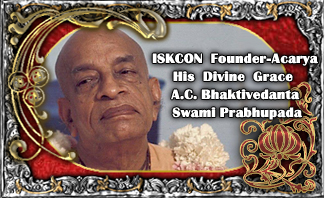 LATEST NEWS HEADLINES
ALSO IN THE NEWS
The Astounding Bhagavad Gita
For more than ten years I have been printing large format books such as Darsana, Krishna Art, and the latest 16 Kg Bhagavad Gita. My cherished dream has always been to produce Srila Prabhupada's Bhagavad Gita in a size that would make it the largest printed sacred text in the world, and then, after displaying […]
MORE STORIES
Sabbatical Course 2018
ADVERTISING

Click here to see advertised ISKCON projects and devotee business on this site
Vaishnava Calendar Reminder Service

Reminders sent to your email about upcoming events - Ekadasi, Festivals, etc. Click to subscribe.
MORE NEWS HEADLINES