Festivals – Experience a Cultural Carnival
6,508 views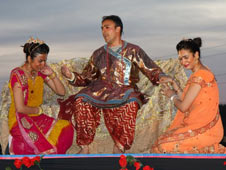 With festivals, everyone gets stuck in to put on a show that will leave you feeling blissful from the great kirtan (spiritual music), intrigued by the interactive discussions, overweight from the culinary delights and altogether mesmerised!
The festivals are generally coordinated by the temples at which IPS has bases: Bhaktivedanta Manor (Watford), Birmingham, Leicester, or Soho (London). The Manor's celebration of Sri Krishna Janmashtami is acclaimed as the largest gathering of Hindus in the world for this occasion outside of India. It attracts 80,000 visitors each year. IPS plays an increasingly role in many aspects of the temple's activities. For this festival, IPS has its own marquee in which a thought-provoking film, drama, or presentation is shown. IPS answers visitors' questions and discusses the subject of the show with visitors. We also construct a forest walkway every year, full of animals and scenes from Lord Krishna's childhood activities. Many IPS members are involved in the other areas of the festival as well.
In Birmingham, the flagship festival for the Senas is the annual, international 24-Hour Kirtan: Sounds for the Soul. Marking its tenth year in 2009, this event is a lively celebration of spiritual words and music. It promotes the congregational chanting of the Hare Krishna Maha-mantra, delightfully sung in a variety of melodies and styles, accompanied by live instrumentation.
In Leicester, it's the Ratha-yatra festival. Based on an annual festival that takes place in Puri, in the Indian state of Orissa, the Leicester version is the second largest in Europe, after London. Three giant chariots are pulled as part of a procession; this is followed by festivities in Cossington Park. The revellers appreciate dramas, kirtans (lively spiritual songs) and dances. Although involved in all aspects of the festival, the local members of IPS have their own area in which they exhibit key spiritual messages in their own dynamic way.
The other major festivals we're involved in are:
* Holi
* Diwali
* Dusshera
* Gaura Purnima
With festivals taking place throughout the year, there are always opportunities to get involved and engage your skills and talent. For more information, contact Chaitanyapriya on chaitanyap@hotmail.co.uk This e-mail address is being protected from spambots. You need JavaScript enabled to view it or 07962 393 635.