Iskcon Food For Life
12,485 views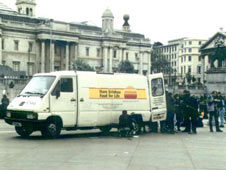 Mission:
"To establish massive free prasadam (sanctified food offered to God) distribution programmes all over the world, so that all beings are adequately nourished with Krishna prasadam, and there shall be no unnecessary hunger anywhere."
What We Do
Hare Krishna devotees around the world bring much-needed food relief to people suffering from wars, natural disasters, homelesnessness and poverty. Our founder-acharya Srila Prabhupada instructed the devotees that no-one should go hunrgry within a ten mile radius of our temples.
The food consists of pure vegetarian ingredients (grains, dairy produce, vegetables and fruit, but no meat, fish or eggs) cooked with love and offered to Krishna. This is known as Krishna-prasadam, or the mercy of krishna. In this way, not only are peoples' bodies nourished; prasadam also gives spiritual benefit, ultimately resulting in love of Krishna and relief from the four material miseries (birth, disease, old age and death).
Distribution in the UK is centred mainly in London from specially adapted vans. The food is cooked at the Manor and Soho St temple kitchens. There is also Food for Life distribution in Belfast, Birmingham, Dublin, Newcastle and West Wales.
Hare Krishna Food for All
Hare Krishna Food for All is an independent charity providing free vegetarian food and other help to the homeless and needy along the same lines as Food for Life.
Food for All is registered charity No. 1077 897 2004