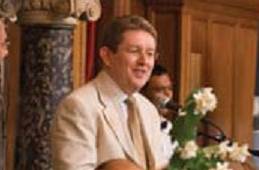 Director of the Oxford Centre for Hindu Studies Shaunaka Rishi Dasa, also an ISKCON devotee, has recently been appointed Hindu Chaplain to Oxford University, the first to take on such a role in the history of the famous 900-year-old school. "It's a sign of the times," says Shaunaka Rishi, who hastens to add that the […]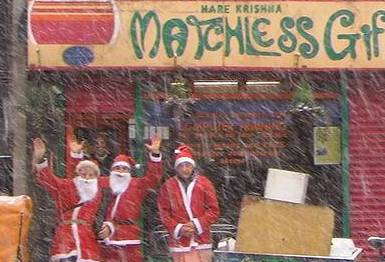 Friday 17 December. What is the best present that Santa Clause could ever give. Answer: Krishna in the form of His Holy name, books and prasad. Over 700 students get a full plate of Krishna prasad daily at two London Universities.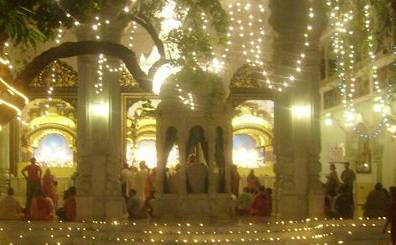 By far the spiritual medical tour has been Mayapur Worldwide's best tour till date. On my way back I kept asking Krsna why this tour was so extra special compared to any other we had conducted in the past. The answers came in many ways. We were serving the hands that heal. These were HIS […]
Dear Devotees, Please accept my humble obeisances All Glories to Srila Prabhupada Its Radha Londonisvara's 41st Birthday!! Hope you all remember what a bash we had last year for the 40th anniversary with Shyamsundar and Gurudas Prabhus and Mothers Malati and Jamuna and so many devotees from the yesteryears. And this year we will be […]
Diwali in London: Ushma from ISKCON Pandava Sena performed prayers and w London a happy Diwali during the opening ceremony of this y Diwali in London, in Trafalgar Square. ISKCON also manage media desk in conjunction with the Mayor's Office and Diwal London (DIL) Committee, overseen by Bhasker Rughani. To view the rest of the […]
Monday to Friday this week watch the recordings of last year's 40th Anniversary of Sri Sri Radha-Londonishvara with Malati, Yamuna, Gurudas and Shyamasundara and other senior devotees of the UK yatra. On http://www.iskcon-london.org/temple-broadcast.html and on the London_History channel of www.mayapur.tv. MONDAY Dec 6th 2010 1 – The Inauguration.wmv – 9 mins 2 – Jaitra prabhu.wmv […]
Two and half months after a huge explosion—caused by a gas leak in the kitchen—ripped through their temple on September 3rd, the devotees of ISKCON Leicester, UK are still pushing on through their most difficult time with faith in Krishna. Today, they are worshipping their Deities and holding festivals from temporary rented locations, while continuing […]
LATEST NEWS HEADLINES
ALSO IN THE NEWS
Second ISKCON UK National Convention takes place
Mina Sharma – ISKCON UK National Head of Media and Communications On Saturday 1st October, the second ISKCON National Convention took place at the newly renovated temple in Leicester, bringing together over a hundred devotees from across the UK. Organised to promote one UK yatra, and encourage a mood of unity, cooperation, trust and positive […]
MORE STORIES
HG Praghosa dasa GBC invites you to the ISKCON National Convention 2016 1st Oct  – Book Online Now
ADVERTISING

Click here to see advertised ISKCON projects and devotee business on this site
Vaishnava Calendar Reminder Service

Reminders sent to your email about upcoming events - Ekadasi, Festivals, etc. Click to subscribe.
MORE NEWS HEADLINES