'Talking Books' revolution
4,793 views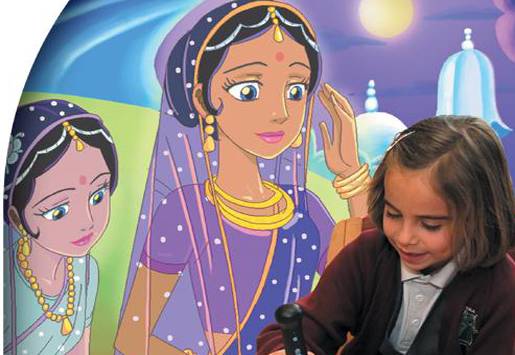 This year's Janmashtami festival will launch the first literacy program in the world to incorporate both whole language and phonics systems. It is the first and only Learning to Read program in the world where the books can be heard in 25 languages by touching each page. The children's books depict many adventures of Lord Krishna and other stories from the scriptures.
"We use a system called MagicPEN, which is used by only a handful of publishers," said Dr. Edith E. Best, an educator with more than 30 years of experience in both primary and secondary education and teacher training. "You touch each page with a computerized pen that has a speaker built into it, and it picks up an invisible bar code and reads the page out to you."
English isn't the only language to listen in. By touching parts of the book with the MagicPEN, you can hear each page in no less than twenty-five languages, including Hindi, Bengali, Gujarati, Russian, Italian, Spanish, French, Afrikaans, Thai, Japanese, and Chinese. As well as allowing children for whom English is a second language to hear the stories in their own tongue, this feature also gives all children exposure to a wide range of languages.
That's still not all the MagicPEN is capable of. Readers can also hunt for hidden audio in the illustrations to hear the characters speak in human voices. They also include music, song and sound effects!
"You can record your own voice into the characters, without interfering with the original audio," Dr Best added. "So one child can record over the audio for one character, while another records over another one, and they can use the books as if they were a puppet show or drama. It makes the stories really come alive."
The series of 42 activity books out 83 in all includes vibrant, colorful illustration by top artists including New Zealand illustrator Lyn Kriegler—whose work appears in seventy-five books published by Penguin and Scholastic—and a number of professional animators based in China.
Most of the books cover subjects including ecology and traditional stories from India, allowing traditional cultures to be presented in their own merit as part of an initiative to teach children multiculturalism.
A test printing of just six books are already being used for multi-cultural instruction in government schools in the UK. "They should be of interest to any of the general public that are interested in Indian culture, Eastern spirituality, or yoga and reincarnation," Dr Best explained. "For example, we have one book promoting vegetarianism, which you wouldn't find in existing children's readers. Most other readers out there all have very materialistic themes and present a middle-class suburban lifestyle where God and spirituality are completely absent."
For more information, visit the following website:
www.illuminationeducation.com
www.learntoreadenglish.co.uk
LATEST NEWS HEADLINES
ALSO IN THE NEWS
ISKCON UK National Convention 2016
When: Saturday, 1 October 2016 from 09:30 to 17:00 (BST) Where: ISKCON Leicester Temple – 31 Granby Street, Leicester, LE16EJ, United Kingdom. "In order to secure your place at this year's convention please register FREE at https://uknationalconvention2016.eventbrite.co.uk NOW (please note registration on the day £5 admin donation, online registration closes 10th September, Limited spaces)"
MORE STORIES
50th Anniversary Garden Opening and Dedication to Srila Prabhupada and his Disciples
ADVERTISING

Click here to see advertised ISKCON projects and devotee business on this site
Vaishnava Calendar Reminder Service

Reminders sent to your email about upcoming events - Ekadasi, Festivals, etc. Click to subscribe.
MORE NEWS HEADLINES